Our motto.... Raising the highest quality, family raised puppies available! We have been raising puppies since 2005. Our goal is to improve the breed, as well as making sure you get the best puppy available!
When you come to meet our puppies, you not only have the opportunity to view the parents but you are also welcome to see our complete set up. We know there are places out there selling puppies who do not allow this. They may give multiple excuses, but we believe when you purchase a best friend you have the right to see where they are raised. We may ask that you bleach your feet before entering the dog area, but this is only to keep our dogs and puppies safe.
We have four kids and a grandbaby. The puppies are well adapted to kids as you can only imagine! We live in Tome, NM and have our whole lives! Our whole family is involved in making sure we have the best puppies available. We spend countless hours and countless dollars to insure our dogs are well cared for. We use American Kennel Club (A.K.C.), We offer a one or two year health guarantee against genetic defects (As of April 1st, 2012), and all of our puppies come with a Neopar vaccine at 4 weeks and their first set of 5 way vaccines, and have been dewormed at 2,3,4,6, and 8 weeks. If the puppy is with us longer than 8 weeks all deworming and appicable vaccines are kept up to date. We are always available for any questions or concerns you may have. Our relationship does not end once you have purchased your new best friend, we are always a phone call away if you need us! Thank-you for taking the time to see what we are about! On 6-27-19 we were inspected by AKC, and in compliance with AKC standards.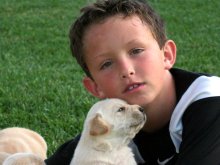 Devin lovin Penny's pups!